Accessed by a particularly dramatic rail journey from Geneva, through pine forests, postcard-pretty Swiss villages and oil painting-worthy mountainscapes, the town of Gstaad is mostly known for its celebrity visitors – from Brigitte Bardot to Liz Taylor and Roger Moore.
But there's an even more compelling reason to visit this glitzy ski hotspot: cheese, and lots of it. Cheesemaking in the region dates back around 1,000 years, and Gstaad still takes this heritage very seriously; with herds totalling 7,000, there are more cows than people.
Standing on the thick, emerald-green grass on a mountainside overlooking the town are a Swiss flag and a giant fondue pot – the visible symbol of the temple to local produce that lies 25 metres below.
Down steep steps – practically ladders – a former underground reservoir owned by the local dairy, Molkerei Gstaad, houses up to 3,120 wheels of ageing cheese. It weighs a total of 30 tonnes, and if you stacked all the wheels on top of each other, they'd be 270 metres high – taller than every building in Switzerland. There's so much cheese here, you'll smell it before you see it.
The atmosphere inside the dairy's cheese cave is less storage facility, more cathedral city, with candles lighting the space and choral music setting the tone.
"Is this song Amazing Grace?" I ask.
"Right, because it's so amazing," says Rene Ryser, who runs the dairy and has worked with cheese for 40 years.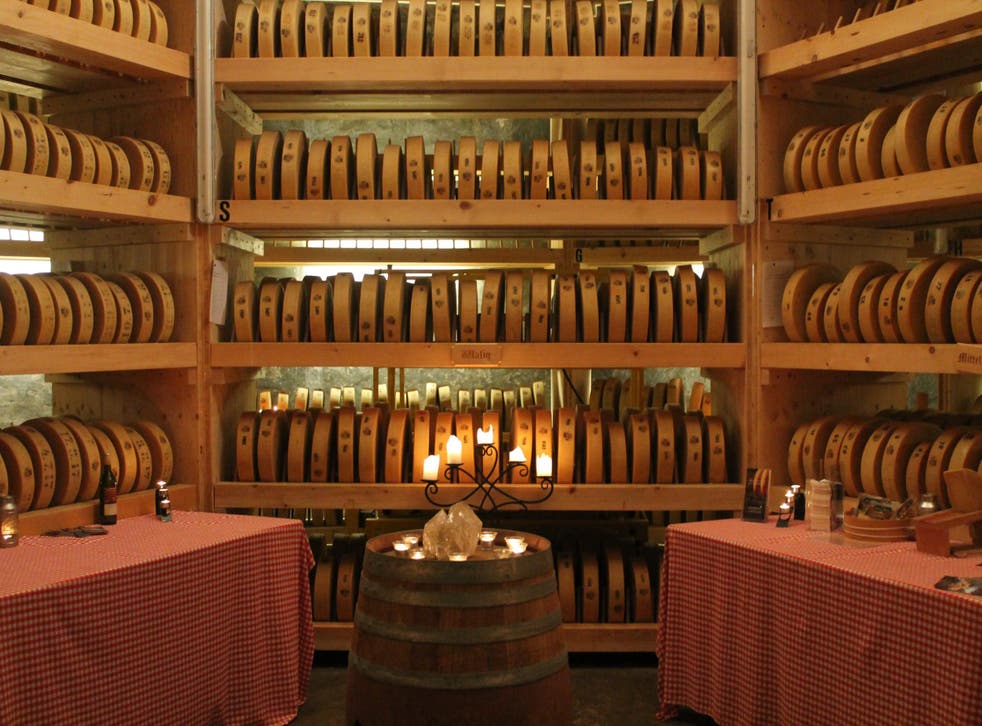 There's just one type of cheese here: Berner hobelkase, a salty, hard Appellation d'origine protegee type of aged Alp cheese that's been made in the region since 1548, using pretty much the same recipe.
The wheels are organised by producer, stacked on floor-to-ceiling shelves and categorised by numbers, like a glorious cheese library. A panel of four judges, including Rene, meet every December for two days to decide which of the local producers' cheeses make the cut, based on appearance, consistency and taste. "These cheeses inside here are the best of the best," says Rene.
Cheeses from each producer will vary subtly in taste, says Rene, who eats hobelkase cheese every day for "quality control".
"Because they are not from the same place, the same producer, they're not the same altitude – this influences the composition of the herbs, and the composition of the herbs influences the taste," adds Rene.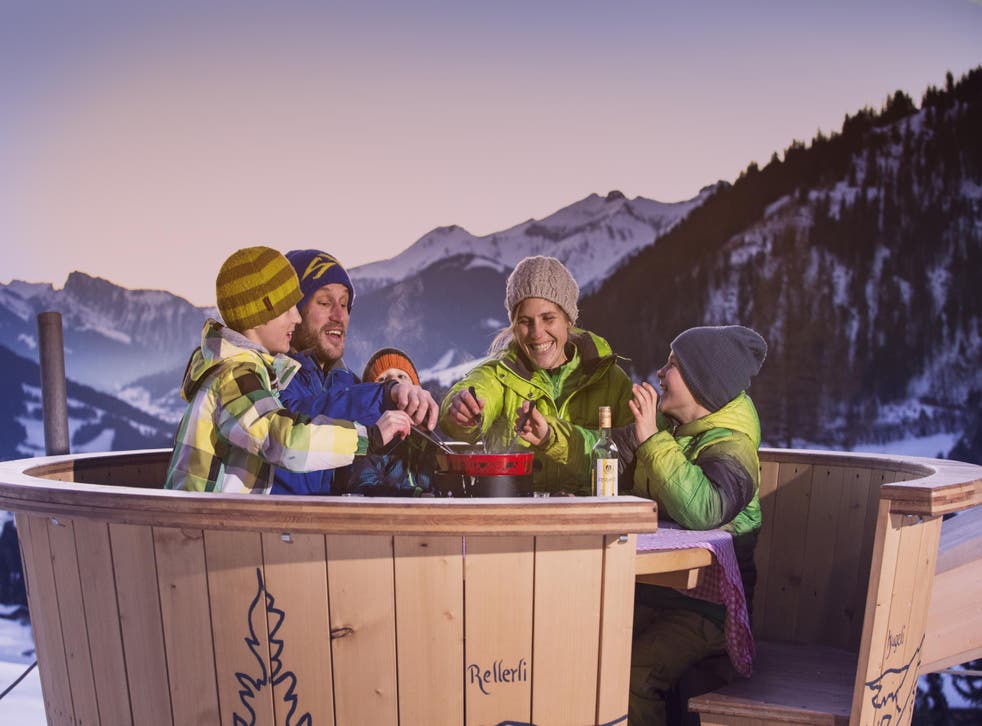 The underground reservoir provides the ideal conditions and temperature for ageing the cheese. To qualify as a hobelkase, the cheese must be aged for at least 18 months, but René says the best are between two and three years old.
I'd already been warned about the cheese cave's oldest wheel – a 150-year-old beast found in the cellar of a farmer's house during construction work – during a chat with Gstaad Palace's head chef Franz Faeh. "You'll see a really ugly cheese – it's brown. That's the cheese from eighteen-hundred-and-something. It's the oldest cheese still in existence," he said.
Visitors to the cheese cave aren't allowed to try it, but since it's not harmful to eat, Franz had used his culinary connections to sample it. And what did it taste like? "You don't want to know. It doesn't taste great. Not a pleasant flavour. It's something you can't define. It's strange," he said.
Luckily hobelkase of an appropriate age is actually very tasty: once it's ready, the hard, mild cheese is cut into thin slices that are rolled up like cigars. Visitors to the cave get to try it paired with a white wine.
And while hobelkase doesn't make a great fondue, the molkerei brings in extra gruyere and vacherin – so, when you're back above ground, you can climb into the giant fondue pot, sit down with a skewer and enjoy some hot molten cheese against that panoramic Alpine view, high above glitzy Gstaad below.
Source : Independent