April may mark the end of the ski season for most resorts in the northern hemisphere, but it's also a month of relaxed, sunny days on the slopes, the best of the conditions in the mornings and up on higher runs.
It'd a month of festivals and fun in the mountains, and although April often includes easter which will see price rises, this is still usually the most affordable ski-holidays fortnight of the season, and outside those peak weeks, April tends to see the best value prices.
If you do want to keep skiing or boarding hard all day it is possible, you just need to be more careful about which resort you pick, to increase your likelihood of finding good snow conditions.
Go High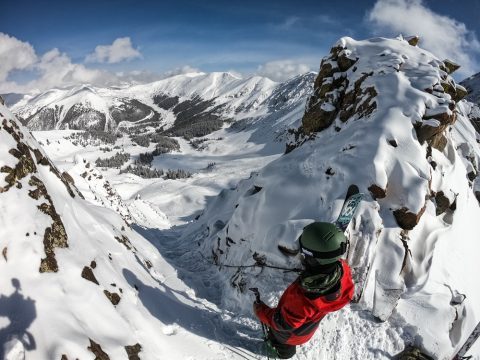 The top advice for skiing and boarding in April is to aim high. Ski areas with a good percentage of their slopes above 2,000m are the safest option in the Alps and if there's a glacier it's a bonus.
Strong French options include: Alpe d'Huez, Chamonix, La Plagne, Les Arcs, Les 2 Alpes, Tignes, Val d'Isere and Val Thorens.
Austrian spring ski specialists include Ischgl, Obertauen, the Hintertux glacier near Mayrhofen, the Kitzsteinhorn Glacier near Zell am See, St Anton in the Arlberg and the Stubai Glacier near Innsbruck.
There are a good choice of Swiss centres with high slopes too including Andermatt, Crans Montana, Davos, Glacier 3000 near Gstaad, St Moritz, Verbier and Zermatt.
Across in the US ski areas staying open through April usually include Breckenridge and Winter Park in Colorado, Snowbird in Utah and Mammoth Mountain in California.
Look North
Scandinavia and Canada tend to come into their own as spring progresses. With ski areas located at a northerly latitude it stays cooler for longer which means less freeze-thaw and more consistently good snowfall.
Although most Canadian resorts shut down in the first half of April regardless of how deep the snow is piled, some, including Whistler's Blackcomb, Banff's Sunshine and Lake Louise as well as Marmot Basin up by Jasper stay open into May.
Over in Norway, Sweden and Finland most of the well known ski areas stay open to the start of May with resorts like Riksgransen up in the Swedish Arctic Circle really getting into the swing of their seasons. There are also long daylight hours here and a relaxed atmosphere after the cold, dark winter months.
Some years April can be the best month of the season for Scottish skiing too, in fact its more likely that conditions will be better in spring than early winter in the highlands, but as every day, week and month through the season here, conditions are unpredictable. It's one to keep in mind and make a fast decision on should it be a good spring snow year in Scotland.
Mix It Up
Many people skiing in April tend to mix up their sporting or leisure activities, getting on the slopes early and sliding until lunchtime or early afternoon, then looking to do something different in the afternoon – hiking, biking and perhaps just hitting the pool or spa in the afternoon. It's a very relaxed way to enjoy your spring mountain holiday.
It's Often Easter
Although we do get Easter in March sometimes, its most often in April, marking the end of the season for many resorts. Depending on exactly when it falls (and that can be as late at the 25th), the weeks before, after or either side of Easter weekend itself can be busy with families from across Europe, but this is still quieter and more affordable, normally, then the February and Christmas/New Year holiday periods. Outside of the 'Easter fortnight' prices are often among the best (lowest) of the whole ski season.
Extended Seasons
Looks out flor resoets announcing they're staying open longer than originally planned, later into April or even into May. They're typically the resorts that have had strong seasons for snowfall that year meaning that, in theory, they should have more snow left to play on to later in springtime.
Bag A Bargain
April is often one of the most affordable periods to ski of the whole ski season, particularly in the weeks after the Easter holidays, if your resort stays open that late. Less snow and fewer skiers drives prices down as resorts and resort businesses endeavour to keep people visiting and spending. Tourist offices often offer discounted deals, sometimes combining big savings on lift passes and accommodation in end-of-season deals.
You may have to make your own travel plans however as many tour operators end their seasonal operations at the end of the easter holidays.
Spring – Summer Openers
There are about half-a-dozen ski areas spread across Asia, Europe and North America which only open from spring to summer in the northern hemisphere, they're not open in winter. Riksgransen in Sweden,, already mentioned, has usually been open a month by the start of April but over in Asia, Japan's lonely summer ski resort, Gassan, usually opens in mid-April for a three month season once the locals have dug out the access road. Other spring-only ski areas in Norway, Italy and the US tend to open in early May.
Time For Touring
Ski touring, the traditional method of skinning up a slope on your skis and travelling through the mountains from point A to point B, rather than using lifts and stating and ending your day in the same place, tends to come into its own in springtime with more daylight hours and warmer weather for visiting mountain huts to overnight in, as welk as the best snow conditions up high. Although some spring touring routes are very challenging, others are open to novices with guidance, so could this April be the year you give it a try?
Festivals and Fun
The spring festival season which gets underway in March continues with many of the leading ski areas in the alps and elsewhere running festivals of various types including music, food and multisports in the final weeks of their ski seasons.
It's also the month when 'pond-skimming', an end-of-season rite that sees participants ski or board over a meltwater pool taking place at hundreds of ski areas around the world, usually as part of final weekend celebrations.
Source : InTheSnow