As the leader of cutting-edge technology in the automotive industry, it was natural for Mercedes-Benz to develop and release its line of electric cars.
Dubbed the EQ line, the EVs on offer by the three-pointed star ranges from small crossover SUVs to full-size luxury sedans, but there is one crucial problem with them.
The Mercedes EQs does not align with the purview of most Benz buyers, says dealers.
In a report published by Automotive News, Mercedes-Benz (DDAIF) dealers in the United States are really struggling to sell the German marque's line of electric vehicles.
According to Edmunds data pulled by AutoNews, Mercedes branded electric vehicles sit on dealer lots for an average of 82 days. This is an exceptionally long time, especially when compared to competitors BMW  (BMWYY)  and Audi  (AUDVF)  — it takes them an average of 38 and 46 days, respectively, to move electric vehicles off the lot — as well as the luxury segment average of 57 days.
Dealer representatives blamed their stockpiles of EVs on the vehicles themselves as well as Mercedes' unwillingness to adjust prices or enact sales to move cars and adapt to the competition.
One dealer said that he had a six-month supply of EVs on his lot, but only a 50-day supply of gas-powered models.
"The EVs are coming whether or not you asked for them or earned them," the dealer said. "There is too much of a price premium — especially at the top end of the EQ lineup — and almost no [lease] support."
The same dealer said that electric models lack what they call the "lust factor" of the M-B gas powered flagship cars, like the large S-Class sedan and the AMG-GT sports car.
"Our cars need to be 'want' cars," they said. "The S-Class has maintained good loyalty because it's aspirational. An EQS is not something that most people aspire to own."
A much more nuanced problem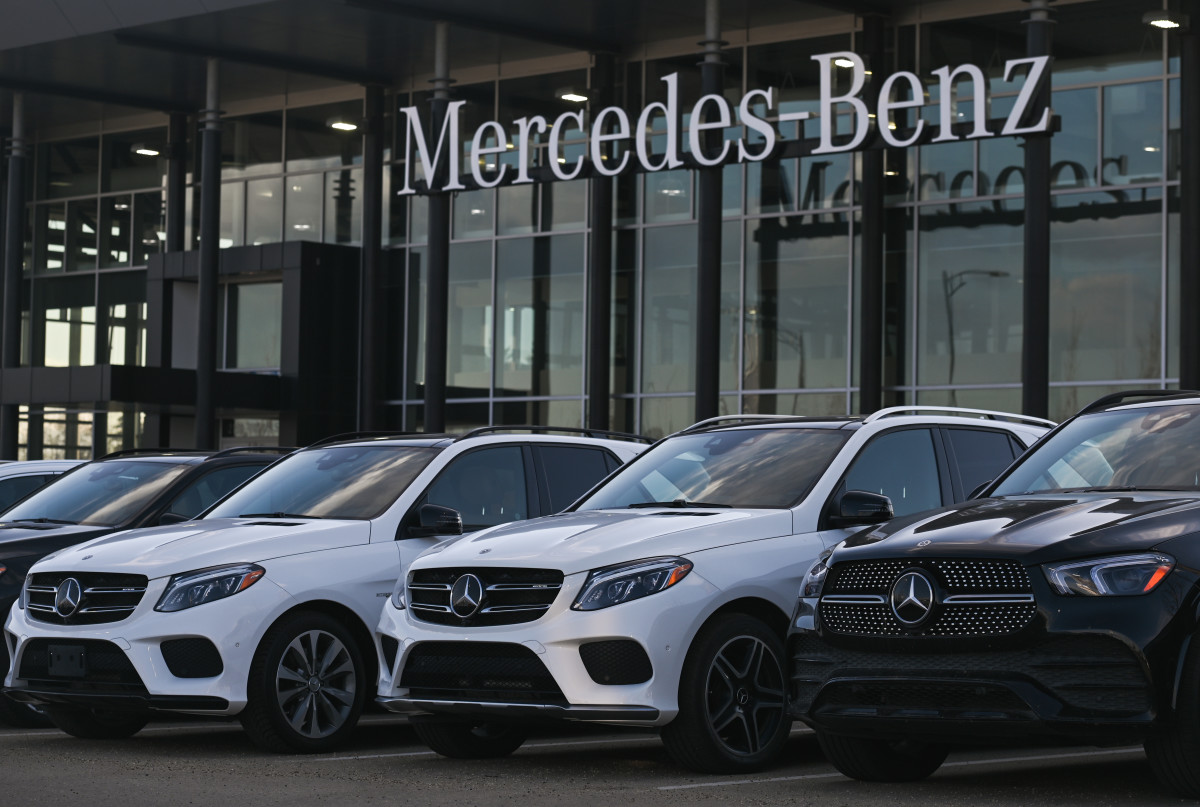 Mercedes-Benz USA CEO Dimitris Psillakis attributes the slow EV sales to both the variety of EVs on offer as well as the struggles of fitting itself into a new segment.
However, Psillakis does acknowledge that supply chain issues have affected the choice of EVs on offer at dealer lots, as higher end models with six-figure MSRPs like the EQS are in higher supply at the expense of units of the more affordable EQB compact crossover.
"We still face challenges around our product lines and have some restrictions coming from suppliers," Psillakis said. "We don't always get the volume we want when we want it."
Mercedes said that they are planning to slow down production of its higher-end EQ models while increasing production of lower-priced EQ models, plug-in hybrids and regular gas cars.
As for the dealers, EVs continue to pile up on lots while they have to get creative to move them. One dealer told AN that they tack on an additional 15% discount on top of factory rebates and incentives just because there is such a need to move them.
"If you sneeze in the direction of [an EV], we will make a deal," they said. 
Source : TheStreet