The flagship brand of the LVMH  (LVMHF)  umbrella, Louis Vuitton has made waves ever since it appointed Grammy-award winning record producer Pharrell Williams as its men's creative director in February 2023. 
Given his notoriety in the fashion world with labels like Billionaire Boys Club, as well as his previous creative outputs with brands like Adidas, G-Star Raw, Uniqlo as well as a 2008 collaborative collection with LV, Williams seemed more than qualified to fill such a position and displayed his first collection with the brand during Paris Fashion Week in June 2023.
Though many clothing pieces and accessories were exhibited on the runway, a bag that Pharrell used was the subject of fashionistas' attention; an accessorized bright yellow duffle bag nicknamed the "millionaire" bag.
The mystery surrounding this personalized bag was solved in a screenshot embedded in a recent Instagram post by Los Angeles Clippers player P.J. Tucker, which showed his personal order form for the $1 million bag amongst pictures of outfits and expensive jewelry. 
Based off of the screenshot, the bag officially known as the Louis Vuitton Millionaire Speedy is available on a made-to-order basis in five colors, such as rouge (red), vert (green), bleu (blue,) marron (brown) and the signature yellow if you want to copy the N.E.R.D. frontman.
What differs the "Millionaire" Speedy from the regular Speedy duffle bags that can be bought for $1,490 – $1,620 on Louis Vuitton's stores and website, is down exclusively to materials.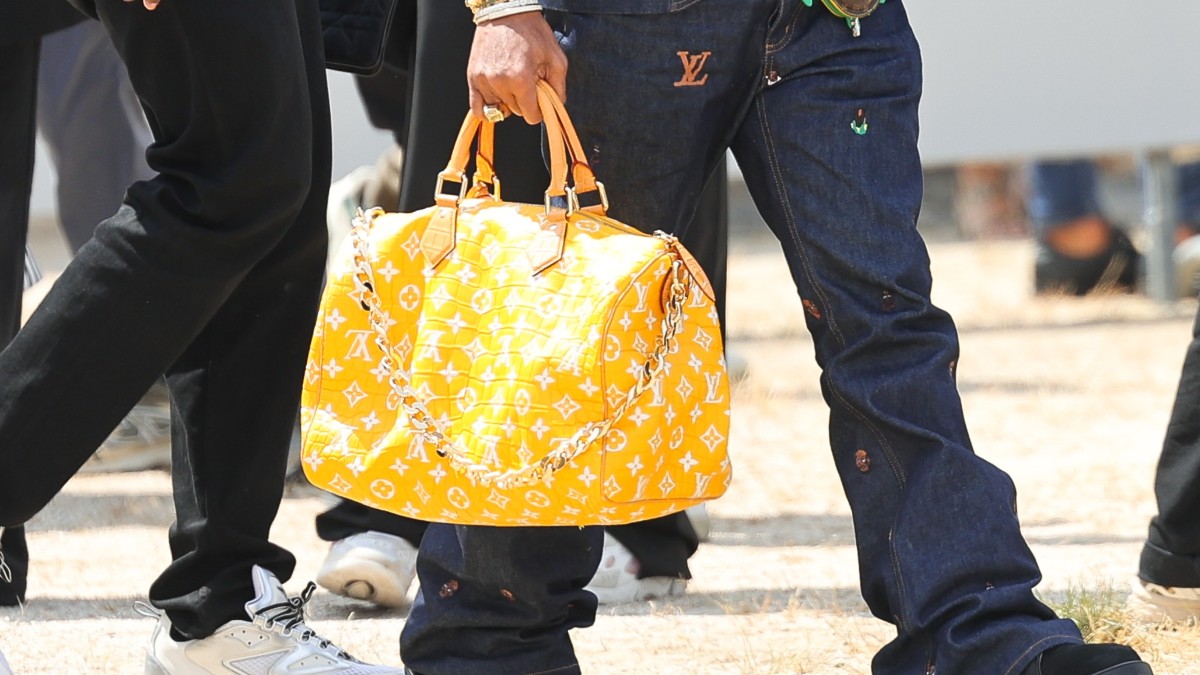 Instead of the stiff coated canvas in the consumer model, "millionaires" get soft crocodile leather that is overlaid in the signature LV monogram, as well as a gold chain with diamond pendants accompanying its crossbody leather strap. Additionally, the bag will also come with a pair of Louis Vuitton "Millionaire" sunglasses.
In addition to the "Millionaire" bag, Pharrell's touch also went towards a "non-millionaire" version of the bag, which swaps crocodile leather for soft, leather, which is also offered to an exclusive clientele in bright colors adorned with the signature LV pattern.
In an August 2023 video interview with GQ magazine, Pharrell intended these expensive bags to be able to collapse under his own weight because he drew inspiration from Canal Street in New York City, where vendors peddle counterfeit Louis Vuitton bags on its sidewalks.
Williams' inspiration is full circle, as he told GQ that the buying experience he wants to have with his bags is something similar to buying a counterfeit bag in NYC's Chinatown.
"When you go into the store, you're not gonna see this laying around," said Williams. "You gotta go in the back like you would on Canal Street. You get the laminate [form] and you, like choose."
Based on the screenshot provided by Tucker, these bags are kept on a "hush-hush" basis from the general public, and are only available to VIP clientele of Louis Vuitton, as the product page was labeled "for internal use only." 
Source : TheStreet