Mexico, a tapestry of places that ignite the soul, has etched itself deeply into the heart of Maria Grazia Chiuri and inspired the DIOR Cruise 2024 Collection. It is a place that, much like the canvas for surrealist artists of yesteryears – from Leonora Carrington to Remedios Varo – and the lens of Tina Modotti, offers a wellspring of emotions and inspiration.
At the heart of the Dior Cruise 2024 Collection stands the indomitable spirit of Frida Kahlo, an emblematic figure synonymous with Mexican culture. Frida Kahlo's life was a testament to transcending the confines of the body through clothing, which became her canvas for representation, proclamation, protest, and self-affirmation.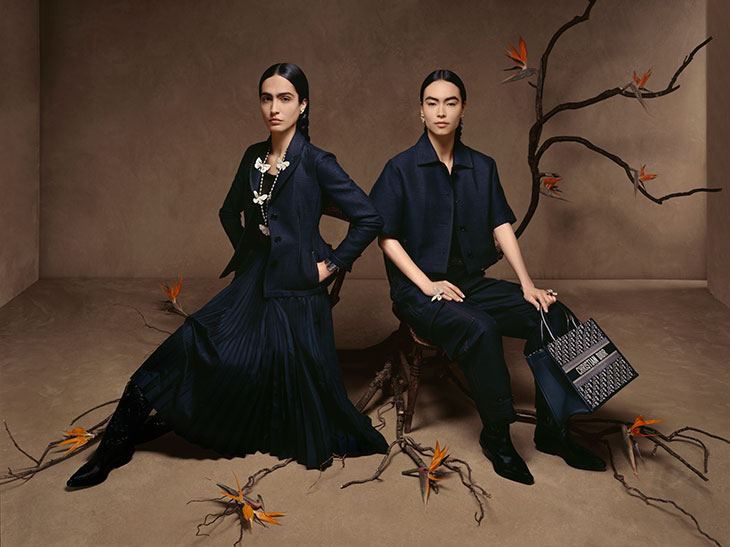 Within this collection, her influence takes shape as a metaphorical cocoon, concealing the metamorphosis of a butterfly, unfurling in a myriad of hues and forms through an array of prints. Additionally, moths, inspired by a vintage sketch from the Dior archives by Andrée Brossin de Méré, take flight on the silhouettes.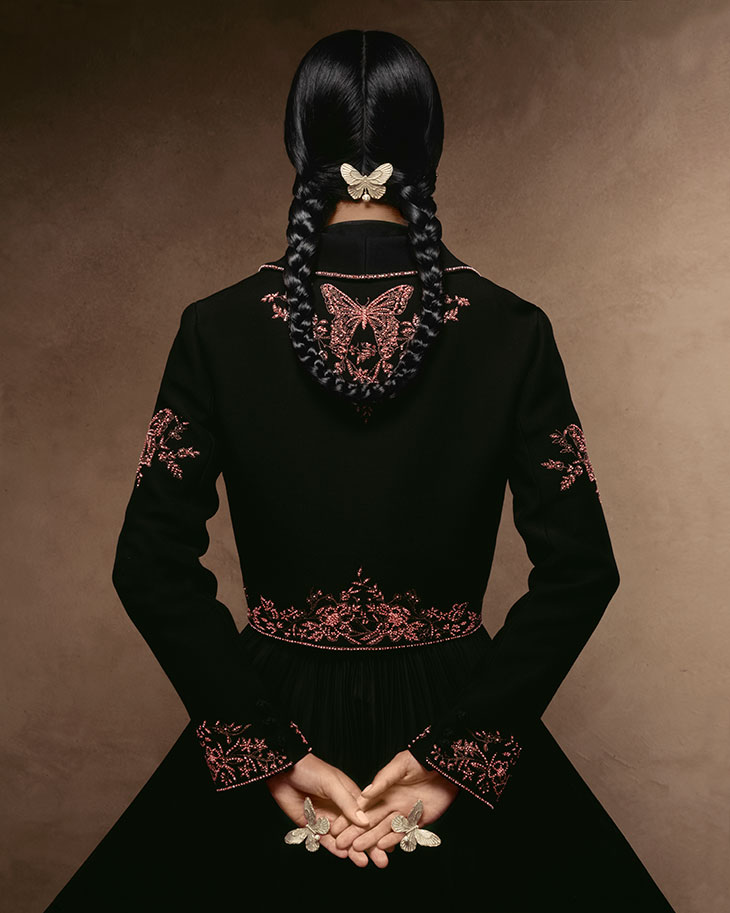 Frida Kahlo's audacious defiance of traditional gender roles serves as a profound wellspring of inspiration. From the age of nineteen, she boldly donned men's three-piece suits, asserting her independence and intellect.
The collection pays homage to her style, harmonizing it with the Tehuana tradition, where full skirts elegantly accompany traditional tunics known as "huipils." Through collaborative efforts with local artisans, the collection is elevated with exquisite embroideries adorning dresses and shirts.
A mesmerizing pink dress, reminiscent of Frida Kahlo's iconic self-portraits, graces the collection. Its fragile beauty is accentuated by a selection of cotton, hemp, and silk lace, intricately designed collars enhancing jersey and black velvet, and butterfly-inspired jacquards. Velvet, in a captivating array of colors, drapes gracefully on skirts, accentuating the hips before unfurling like corollas.
Butterflies, symbolic of transformation, are a recurring motif throughout the collection. They not only grace the fabrics but also adorn the toile de Jouy patterns, showcasing Mexican flora and fauna, including parrots, monkeys, and strelitzias, reminiscent of Frida Kahlo's vivid paintings.
Maria Grazia Chiuri's personal connection to this collection is poignantly evident in the choice of venue for its unveiling: the Antiguo Colegio de San Ildefonso, where the iconic Mexican painter herself once studied. This hallowed space, where Frida Kahlo crossed paths with Diego Rivera, her lifelong mentor and love, adds a profound layer of symbolism to the collection.
As a poignant tribute to feminism, the collection is complemented by a performance by Mexican feminist artist Elina Chauvet. It is here that Mexico's emotional resonance finds its ultimate expression, weaving together a narrative of femininity nurtured by a deep-rooted connection with the natural world, striking a harmonious balance between purpose and playful elegance. In the spirit of Frida Kahlo, this collection is a celebration of individuality, a testament to the enduring power of self-expression through the artistry of fashion.
Source : DSCENE