Buying a car is still a dream for many people in India. With the rise in the number of young entrepreneurs, we have seen a trend of buying expensive and exotic cars. Most of these young entrepreneurs buy sports cars and supercars as they are very rare.
We have featured many such young enthusiasts in our articles in the past. Rolls-Royce cars are the epitome of luxury, and a majority of businessmen in the country often dream of buying one. Here we have Paras Gupta, who became the youngest owner of a Rolls-Royce Ghost Series II luxury saloon in India. You may ask, how old was he when he bought the Rolls-Royce? He was 22 years old.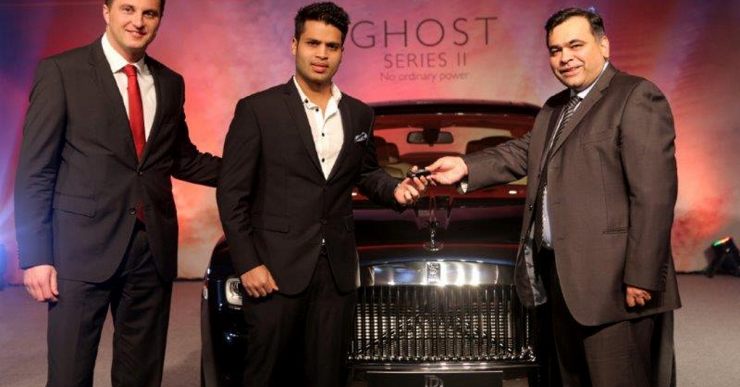 Paras Gupta is the director of Mother's Pride, a pre-school chain that has branches across several states in North India and Mumbai. The business was first started by his mother, Sudha Gupta. This is not the first expensive or luxury car that Paras has in his garage. The Rolls-Royce Ghost Series II is probably the most expensive one. Before Rolls-Royce, Paras used to drive a BMW X5 luxury SUV. He comes from a family of car enthusiasts. Paras Gupta's elder brother, Prateek Gupta, drives a Maserati and a Mercedes E63. In addition to this, the family owns luxury cars such as the Toyota Land Cruiser V8, Mercedes-Benz S350, Range Rover Evoque, Toyota Land Cruiser Prado, and so on.
While there are many vehicles in his garage, Paras absolutely loves the Rolls-Royce Ghost. He is a person who feels that there is a car for every stage of one's life. In 2015, when he bought this sedan, he told the media, "Right now, I'm graduating from SUVs to sedans, but I like my sedan to be sporty, young, and dynamic." After buying the Rolls-Royce Ghost, he offered some of his friends the opportunity to take the car for a spin. "The car is quite a hit in my social circle of young entrepreneurs who are raring to go. A few of them, who had the privilege of driving the car, are keen on acquiring it one day."
This is not the first time a young entrepreneur has bought an expensive car in India. However, Paras is definitely the youngest owner of a Rolls-Royce luxury saloon in the country. People of Paras's age often dream of buying an SUV or a performance sports car. It is rare to see people of this age opting for a brand like Rolls-Royce. The Rolls-Royce Ghost in 2015 cost around Rs 4.48 crore, ex-showroom. Just like any Rolls-Royce car, the Ghost also had customization options. Depending on the customizations that the customer opted for, the price of the car would go up. The exact cost of the Ghost Series II bought by Paras is not known for the same reason. It was powered by a 6.6-liter engine that generates 570 Bhp and 780 Nm of peak torque. It is mated to an automatic transmission, and the power is sent to the rear wheels. Last year, Abhishek 'Monty' Agarwal, who is 33 years old and the founder of Purple Style Labs, bought a brand new Mercedes-Maybach S 680 luxury sedan and became the youngest Indian to do so.
Source : Cartoq