The handbag market has caused a lot of commotion over the past year: Chanel raised the price of its iconic flap bag to over $10,000, Hermès won't sell its Birkin to customers without a hefty shopping history and Telfar announced the end of its Bag Security Program. In an era of virality and increasingly popular investment pieces, luxury brands are doubling down on scarcity.
"Pricing has always been one tool in terms of exclusivity — scarcity's the other," Sotheby's Global Head of Fashion and Accessories Cynthia Houlton says. "Whenever you have more demand than supply, that creates an imbalance in the market. There's a balance of, how high can prices go, how difficult is something to get versus being readily available?"
Modernblkgirl founder, investor and handbag collector Tiffany James thinks some brands are going too far with their price increases. "The idea of Chanel raising prices because of material price inflation worked last year, but it's not really the case this year. I think it's tone-deaf of them to continue to raise prices," she argues, noting how quality has been an issue (especially when compared to an Hermès Birkin bag) at the heart of social media discourse.
Meanwhile, "discounting product is basically the bane of luxury," Houlton points, as centuries-old brands are especially protective of their value. That's also why brands like Louis Vuitton, which stopped selling its monogrammed Neverfull tote online in May, are limiting access to its supply.
Exclusivity has always been a key part of luxury brands' strategies, but these recent moves have been brought on, in part, to the growing appeal of resale, which allows consumers to bypass these barriers to entry and buy the product they want secondhand. By 2027, the global secondhand market is projected to double, to a value of $350 billion, according to Fortune.
"Typically, forced scarcity increases a brand's allure and the exclusivity around a given product, prompting consumers to consider all avenues to acquire the item in question. If the product is relatively easy to obtain on the secondary market, the impact of forced scarcity can be mitigated," Rebag Chief Marketing Officer Elizabeth Layne writes over email.
The RealReal Associate Director of Merchandising Hillary O'Malley explains that searches on the platform often mirror broader trends in desirability: She saw saw an 85% increase in searches for Telfar the day after Beyoncé name-dropped the brand in "Renaissance," for example. 
The RealReal Associate Director of Merchandising Hillary O'Malley explains that searches on the platform often mirror broader trends in desirability: She saw saw an 85% increase in searches for Telfar the day after Beyoncé name-dropped the brand in "Renaissance," for example. 
Luxury brands creating scarcity boosts prices and demand in the resale market, too, leading to inflation. Sarah Davis, founder and president of Fashionphile, expects to see this with Telfar's bags: "The Telfar Bag Security Program was put in place to make sure that it wasn't just bots and resellers that got access to the bag people wanted. With no such program in place, we'll most likely see increased resale prices."
These strategies also play into into a growing trend of collectors treating their handbag collections as asset portfolios.
"Shoppers consider luxury items a dependable investment asset, as we noted in a report we released in partnership with Business of Fashion Insights last year," Charis Marquez, vice president of global fashion at eBay, writes over email. "The same report found that 62% of resellers have sold luxury accessories for more than they purchased them, which is a benefit of this type of scarcity that is resulting in collectability of luxury accessories."
In other words, growing handbag demand can lead to opportunity across all markets. The RealReal expanded its conditions ratings to sell bags in "fair condition," the lowest on the scale. There are new players, such as Farfetch, which opened a resale program for bags in 2020. Even Anna Wintour recently said on a podcast that designer brands should start selling their own vintage pieces.
While pricing in the secondary market has gone in step with the primary market, there's an unexpected wrench complicating things: "super-fakes," which, as reported on by the New York Times, are counterfeit bags made so well, they're oftentimes hard to distinguish from the real thing. (Think deepfakes for handbags.)
"Counterfeits continue to evolve as the price of luxury goods goes up," says Houlton. "There's more incentive for counterfeiters because there's a lot more room."
"Super-fake" bags have the potential to thwart the authentication processes these resale platforms pride themselves on. Plus, as Fashionphile Vice President of Procurement and Authentication Lara Osborn pointed out in a response video to the Times, the practice is more serious than it seems: Beyond being illegal, there are more dire consequences tied to the way some counterfeits are produced and distributed, involving human trafficking and terrorism.
Perhaps more surprisingly, the stigma around wearing a fake bag is dissolving, as influencers rave about designer "dupes" on social media, mirroring what's happening in beauty.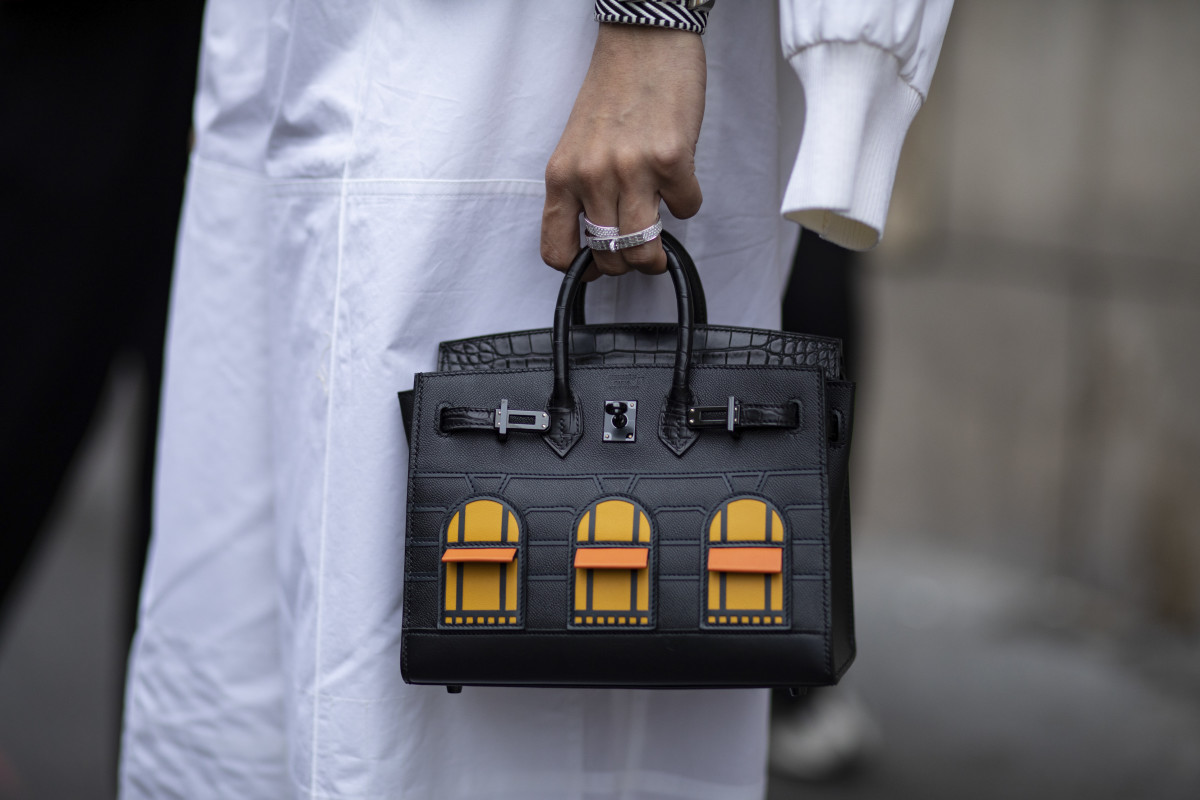 For luxury brands, these issues highlight the importance of striking the right balance between widespread visibility with perceived exclusivity, if they can.
"Virality can be a double-edged sword," Robert Burke, of the New York-based retail and fashion consulting firm of the same name, writes over email. "It can introduce a brand to a whole new customer segment and drive up sales. It can also lead to excess availability on resale platforms and creation of fakes."
"While pre-owned pieces have become more accessible, getting a new bag directly from the brand is considered a milestone for a lot of people," he continues. Even for people buying coveted bags on resale, the "price is often very close to retail, so while the availability might seem plentiful, those bags are still an investment that's accessible to a limited group of consumers."
As designer brands look for ways to make their coveted handbags more scarce, they're also fueling entropy in the market. It may be giving resale a boost, but the future rests on how these luxury players navigate a topsy-turvy environment between the broader economy and ever-evolving counterfeits. Rest assured, they'll do whatever they can to bolster the value of their handbags — the cash cow of most luxury fashion businesses.
"If you look at the LVMH group, they're the most valuable company. And if you look at the margins of the business, it looks like software, which is incredibly impressive," Houlton says. "Luxury brands continue to evolve as they think about who their clients are and what's strategically important to their business. They're incredibly sophisticated."
Source : Fashionista