Click on the website of any given luxury resort in Maldives and you'll likely find an entire page highlighting its commitment to sustainability and associated "green" credentials.
The lingo isn't your usual tourism marketing jargon – terms like waste management, soil erosion and solar energy generation don't exactly evoke visions of cream-hued beaches lapped by impossibly blue waters.
But Maldives isn't your usual destination. As the world's lowest-lying country, it's 99% water, with its 1,000-plus islands spread over 90,000 square kilometers.
The majority of the country's 160-plus resorts sit on individual islands, putting the onus on these accommodations to go above and beyond to reduce their impact on Maldives' fragile environment.
But do tourists actually care about a resort's sustainability cred?
Increasingly, the answer is "yes," says marine biologist Samuel Dixon, who has been with the Fairmont Maldives, Sirru Fen Fushi since before it opened over five years ago.
As the luxury resort's sustainability manager, he oversees all of the 120-villa property's eco-inspired initiatives, from protecting the 9-kilometer-long house reef to implementing cutting-edge energy-saving strategies.
"We are now seeing a huge rise in the number of eco-conscious travelers, particularly in the luxury hospitality market," he tells CNN.
"I have noticed that there is a lot more inquiry into some of the work that I'm doing here, whether it's on coral restoration, turtle conservation, recycling or our energy and our solar usage. To have a lot more guests engaging and asking these types of questions is music to my ears because it means we are heading into a future where there is a bigger call for a more sustainable hospitality industry."
Dixon oversaw the installation of a new facility at the resort, the Sustainability Lab, which offers guests a front-row seat to one of the biggest challenges faced by Maldives – plastic waste.
Opened in early 2022, it's the first center of its kind in the country. Set just steps away from the resort's arrival dock inside a building made of upcycled shipping containers, it's filled with specialized machinery that turns plastic waste into bespoke souvenirs, furniture and supplies for local schools.
The lab also recycles discarded "ghost nets" – discarded by fishing boats, they're particularly harmful to sea turtles – by braiding them into bracelets and luggage tags.
A visit to the lab is sobering. Large bins filled with different colors of tiny pieces of plastic line the shelves, ready to be put into the industrial machines and melted down into various shapes and sizes. The predominant color is blue thanks to an abundance of plastic water bottle tops.
Dixon says the plastic is sourced from multiple places. There's the packaging that comes with the weekly food supplies. They also collect plastic waste from neighboring hotels and local schools.
And, of course, the sea provides an endless supply of materials.
"That is the gift, unfortunately, which does keep on giving every day," he says of the ocean.
"We are removing between three to five kilograms of waste in the morning just from this resort. And about one to two kilograms of that is plastic. And so we collect it and make trips to other uninhabited islands as well."
The foraged plastic is first washed to remove any dirt or residue. Then, it's shredded down into small pellets that can be used in two ways. There's the extruder, which melts it down and reforms it into 3D molds to create souvenir turtles, carabiner hooks and school rulers.
There's also a press, which will flatten the plastic into sheets that can be used "exactly like wood," says Dixon. The resort's carpentry team uses it to make furniture, which guests can commission and get shipped home.
Though the amount of plastic processed is small in the grand scheme of things, Dixon says it's important to remind visitors of the issues faced by Maldives while also working with the local communities to address such challenges.
"I think what's fantastic about bringing this into the hospitality industry, and particularly in a location like the Maldives, which is an paradise idyllic location, is it really brings it to the forefront of guests' minds," he says.
"Guests can actually not just hear the words, 'oh, the hotel recycles plastic,' they can come and they can see it. They can visualize it. They can actually be a part of the process. And we do try to make it as fun as we can."
As a result of their efforts, the Sustainability Lab is one of the few places on the resort island where guests will actually see much plastic.
There are no plastic water bottles – glass only – while guests are each given a reusable water bottle they can fill at one of the water stations around the island and take home as a souvenir. Even the toothpaste in the dental kits comes in a tiny paper packet.
Underwater art installation doubles as artificial reef
Another resort space that puts a heavy emphasis on conservation is the Coralarium, located a few dozen meters offshore from the main beach area.
A large, metal sculpture, it doubles as a coral garden for local wildlife that guests can snorkel into and explore.
"The Coralarium aims to be a center for education and for conservation," says Dixon. "It was made all with pH-neutral material, so it's nontoxic to the marine life and contains no harmful pollutants. The structure was designed to kind of replicate a hard substrate of a coral reef. So when coral have the mass spawning events, the Coralarium essentially catches the coral polyps and facilitates coral naturally."
He says it's essentially an artificial reef, but with live coral growing on it, too.
"We've had about 120 fish species move in, so it's become a mini habitat for marine life there, which is great to show guests."
'Secret Water Island'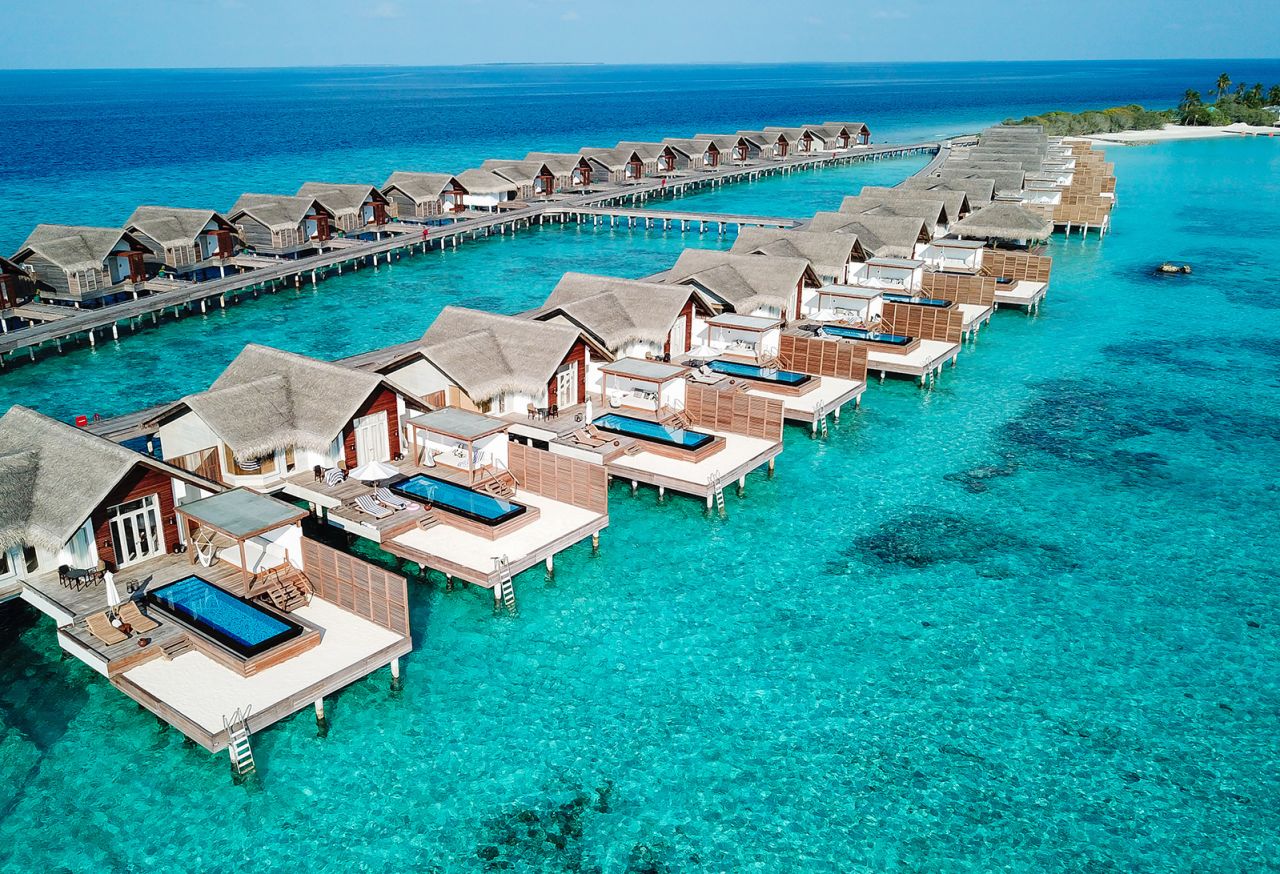 Suitably, the Fairmont Maldives is located on what's been nicknamed "Secret Water Island."
On the backside of the island is the resort's 9-kilometer house reef, which is home to more than 400 species of marine life. Directly offshore, it can easily be explored with a snorkel set. Those who visit between December and April will be able to witness the reef's manta ray season.
But guests don't even need to go into the water to take in the abundance of aquatic wildlife offshore.
At Kata, the resort's Japanese restaurant, large reef sharks can be spotted cruising through the waters below its stilted platforms alongside other colorful fish. Similar scenes are also a nightly occurrence at Azure, Fairmont's seafood restaurant.
In terms of accommodations, Fairmont Maldives, Sirru Fen Fushi has a variety of overwater villas in varying sizes, while those who prefer the beach can opt for sunrise or sunset villas. (The sunrise villas face the house reef, the sunset villas are opposite the Coralarium.) There are also tented villas for those who want to really get close to nature.
There's a variety of treatments and therapies on offer in the large spa, plenty of water sports activities and excursions and an excellent kids' club. Children can learn more about the resort's conservation efforts by joining its new Generation Sea program, which includes visits to both the Sustainability Lab and the Coralarium.
For sustainability manager Dixon, seeing guests young and old take an interest in these once-neglected issues has been incredibly validating.
"When I think about how we've really adapted and created a more sustainable environment here, a more sustainable operation within this hotel, it makes me very proud," he says.
Source : CNN