The 2023 Cannes Film Festival red carpet has continued to deliver amazing looks. This Sunday, Jennifer Lawrence joined the fashion parade in a Christian Dior Couture gown in fire engine red for a screening of Bread and Roses. Lawrence is a producer on the documentary created by Afghan filmmaker Sahra Mani, which follows Afghanistan women living under the Taliban. She actually sported two looks in one day by the fashion house designed by Maria Grazia Chiuri.
Her gown for the evening was all glamor, with thin straps, ruffled neckline, and a cinched waist that opened up into a floor-length skirt. Over her arms draped a matching stole that formed a royal train behind her.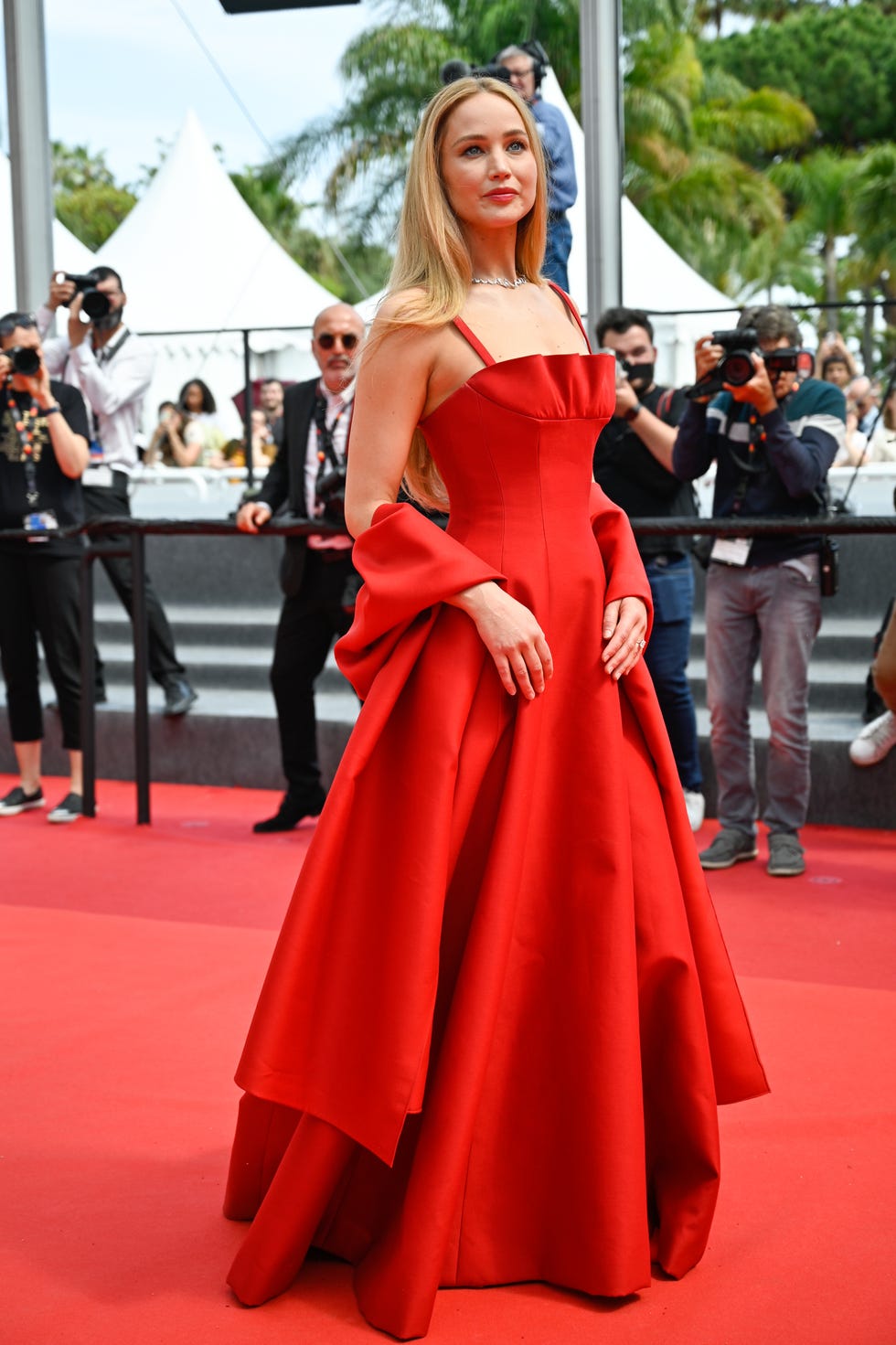 STEPHANE CARDINALE – CORBIS//GETTY IMAGES
Lawrence made the dramatic look shimmer with a Tiffany & Co. diamond necklace in an asymmetrical zig-zag pattern, and left her long blonde hair down. She had a bright red lip to match her ensemble.
For her daytime photo call, Lawrence had a much more muted color palette, wearing a semi-translucent sheath dress in grey knit. The long skirt just showed the toes of her strappy silver sandals.
She had her hair swept into a regal updo and a pair of drop earrings. The dress featured an elaborate cut and tie design that plunged down the back to show her matching slip.
In an interview with the Hollywood Reporter, Lawrence said she was drawn to Mani's project because of the way the news cycle moves on so quickly, and she was struck by the director's 2019 film A Thousand Girls Like Me.
"Obviously, the Middle East is extremely complex and very far away and after you see things on the news so much, it can make something safely two-dimensional," said Lawrence. "The fear of everyone moving on and forgetting led us to try to make something more permanent."
Source : ELLE