Before christening its iconic racing watch the Daytona, Rolex entertained several other names. Originally, the watch had "Chronograph" stamped on the dial, plainly describing its function as a subsecond timekeeper of great accuracy.
Then, in a flurry of space-race whimsy, Rolex revived its Cosmograph portmanteau, originally attached to moon-phase watches from the Fifties, in 1963. But shortly thereafter, Rolex landed on something that stuck. The name Daytona proudly graced the dial of nearly every Rolex chronograph moving forward, a nod to that temple of American endurance racing. But there was another wrinkle in the Daytona's murky early nomenclature.
"This is the new Rolex chronograph," a rare 1964 advertisement reads. "It's called Le Mans."
For decades in collectors' circles, hazy memories conjured a tale of the Rolex Le Mans wristwatch, but nobody could quite pin down the details. Thankfully, this ad provides physical proof that, for a fleeting moment, Rolex nearly dedicated its chronograph to a different endurance classic.
"This is the earliest Daytona ad I've ever come across," says Nick Federowicz, founder of Ad Patina, a business that curates and sells vintage watch advertisements. "I can't be sure there wasn't an earlier ad printed for the Daytona, but this is the earliest I've seen so far."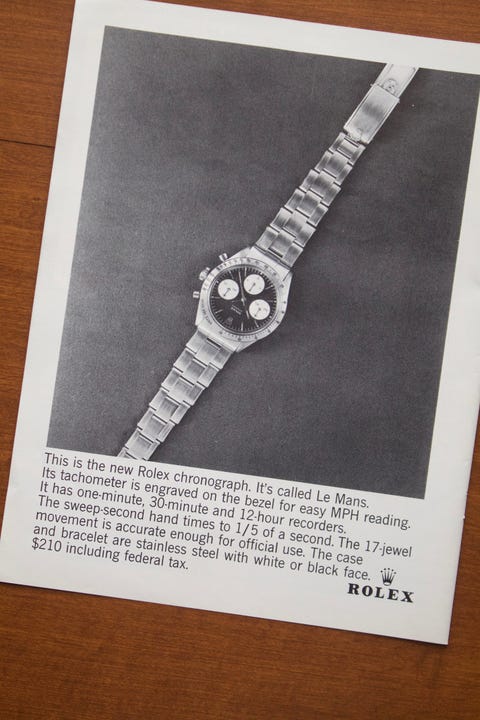 Federowicz speculates that Rolex purchased this Le Mans ad in 1963, just before the first Daytona wristwatch officially debuted, but print lead times meant the Le Mans page didn't run until after the name was dropped.
What remains of the Rolex Le Mans is only a maybe; Rolex couldn't officially corroborate the narrative of this curious footnote. But in one major way, the watch lives on. Everyone knows that winners of the Daytona 24-hour race take home a shiny Rolex chronograph, but fewer are aware that Le Mans champs also win a Daytona. While "Daytona" and "Cosmograph" still adorn the dial side of that winners' watch, when you flip over to the caseback, an inscription reads "24h Le Mans Winner" with the year engraved below it.
Maybe call it the Rolex Cosmograph Daytona Le Mans. By any name, this is a peerless racing watch that, thanks to an obscure historical footnote, reads a bit more poetic than you'd expect.
Source : Road&Track