Luxury giant Louis Vuitton further demonstrated South Korea's status as a fashion force by transforming Seoul's Jamsugyo Bridge into a striking outdoor runway on a chilly Saturday evening.
Hosting its first womenswear show in the country, the French label unveiled its Pre-fall 2023 collection by sending scores of models across the Han River before a star-studded audience.
The event marked a major moment for Louis Vuitton — not least because the brand has never previously unveiled a Pre-fall collection via runway show. (Falling outside the usual Fashion Week calendar, Pre-fall designs are often more commercial than Spring-Summer or Fall-Winter collections, and therefore usually promoted via glossy campaign photos).
But this was also a milestone for Seoul itself. Despite South Korea's booming luxury market, its capital has yet to emerge as a routine stop on the fashion industry's packed schedule. Such was the excitement surrounding Saturday's show that proceedings were livestreamed to passersby on large screens in the city center.
Described by the Maison as a "tale of to and fro" and "transformation," the new collection was varied in style and material: bold, primary-colored jackets were tucked into A-line studded miniskirts. Elsewhere, looser, flowy silhouettes yielded a bit of romance. Model and "Squid Game" star Jung Hoyeon opened the show.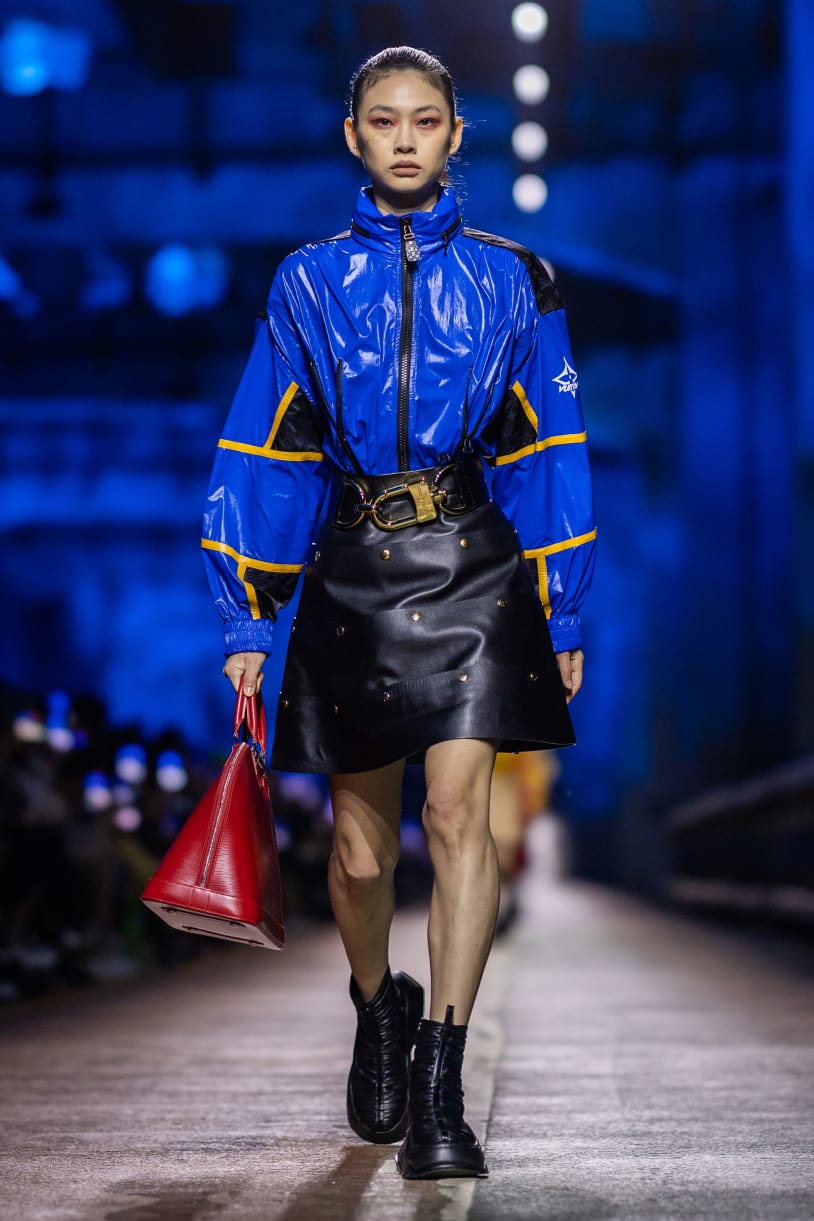 Model and actor Jung Hoyeon walks the Louis Vuitton Pre-fall show on April 29, 2023 in Seoul, South Korea. Credit: Justin Shin/Getty Images AsiaPac/Getty Images
Seoul's government has (along with the Korea Tourism Organization) signed a long-term partnership with Louis Vuitton. The initiative forms part of a major drive to promote the city — and the river cutting through it. With the audience facing out towards the water, and the runway itself just a few feet from the bridge's railings, the location made for a picturesque backdrop, the cityscape illuminated in the distance.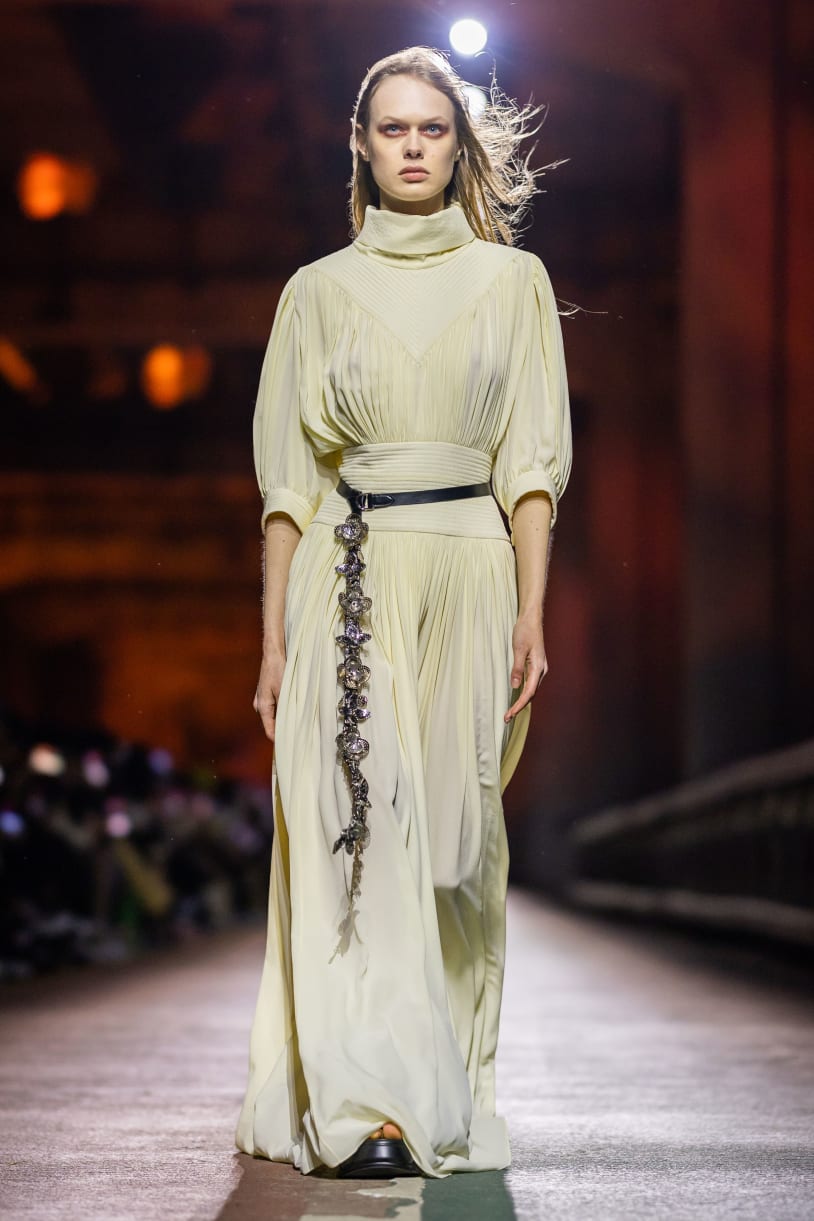 A model walks the runway over looking the Hangang River. Credit: Justin Shin/Getty Images
K-pop, K-beauty and K-drama have been among the biggest cultural phenomena of recent years — and fittingly, scenography at Saturday's show was overseen by Hwang Dong-Hyuk, director of the Netflix hit "Squid Game." With deep blue lighting effects and an aquatic-themed pre-show soundtrack, (which included what sounded like whale calls), his production was seemingly inspired by the river below. Chloe Grace Moretz, Jaden Smith and Bae Doona were among the stars in attendance (where they were joined by around 100 local fashion students, there by special invitation from Louis Vuitton).
Like many in the audience, 32-year-old writer and influencer Gong Linxuan remarked how cold he was, but told CNN the experience was "amazing." "It's like being in a TV show," he said, gesturing to streams of water — which were not part of the set design — shooting off the bridge. Gong added that he thought the collection itself was "beautiful… quite easy to wear." Meanwhile another spectator, Anna Hyewon, said she was excited to see the show hosted in her home country. "It's dreamy … it's very special."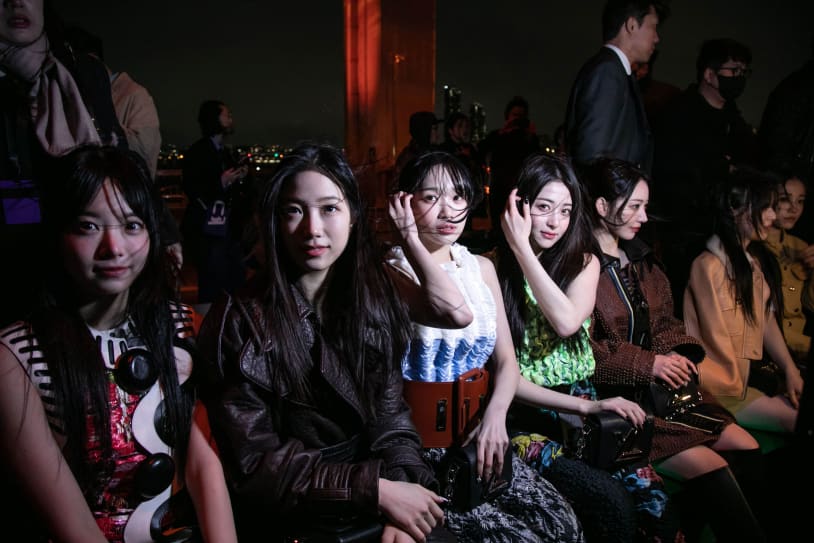 Members of K-pop girl band Le Sserafim were among celebrities attending the Louis Vuitton show on April 29, 2023 in Seoul, South Korea. Credit: Jean Chung/Bloomberg/Getty Images
The event was masterminded by the fashion house's artistic director for womenswear, Nicolas Ghesquière, who has staged shows at venues ranging from the Louvre to New York's JFK Airport during his decade at the helm.
The decision to host a runway showcase in Seoul comes as European fashion houses look to strengthen their hold on the country's luxury market. Earlier this year, investment bank Morgan Stanley revealed that South Koreans are now the world's biggest luxury shoppers, with an annual spend of $325 per capita.
Louis Vuitton has been a major beneficiary. News agency Yonhap reported that regulatory filings showed the label's Korean arm had grown its annual net income to 380 billion won ($284 million) in 2022, up by almost 69% on the previous year.
Louis Vuitton has massively expanded its presence in South Korea since opening its first boutique in Seoul in 1991. The label now lists 35 stores across the country, including a sculptural glass-fronted flagship, designed by celebrated architect Frank Gehry in Seoul's upmarket Gangnam district. Two years ago, the late Virgil Abloh (then the brand's artistic director of menswear) staged a "spin-off" show in the city for Louis Vuitton's Fall 2021 Mens collection.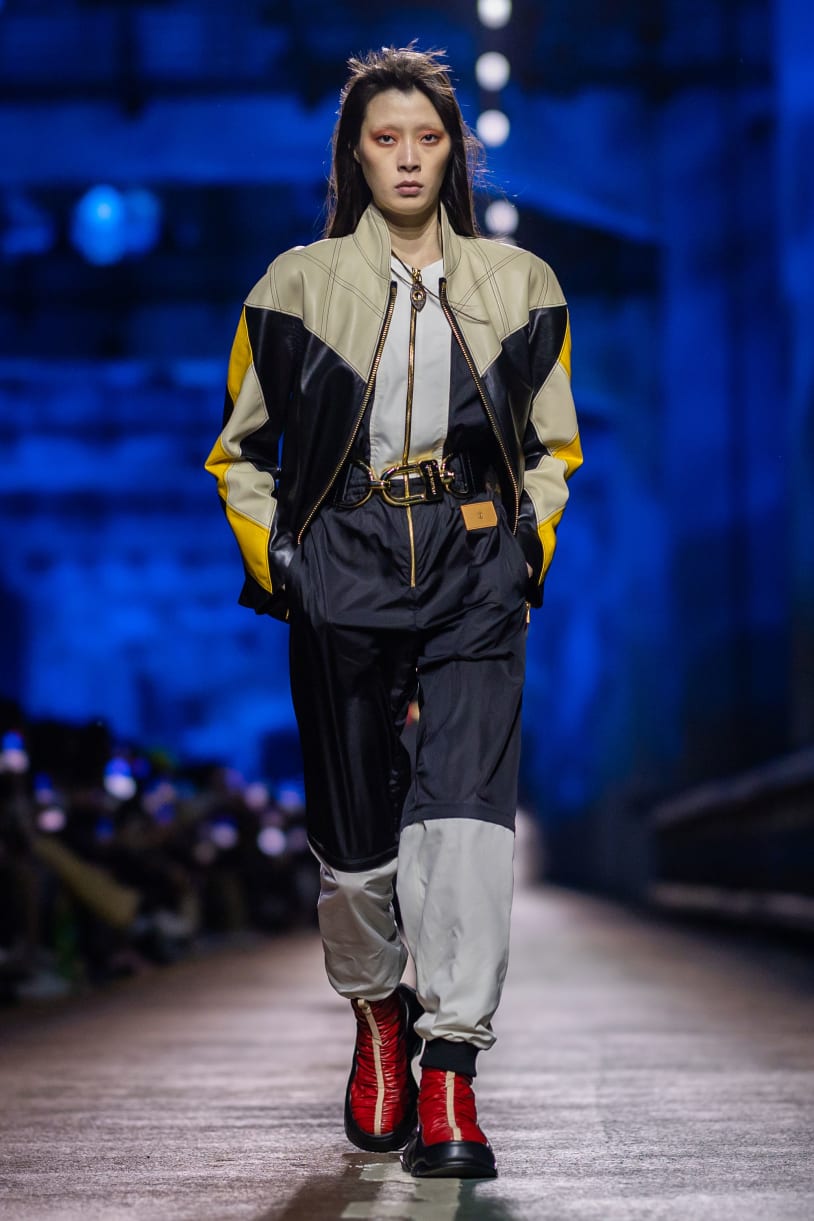 Deep blue lighting effects and an aquatic-themed pre-show soundtrack were seemingly inspired by the river below. Credit: Justin Shin/Getty Images
The brand's presence in the country has been bolstered by a wave of partnerships with high-profile musicians and actors. Among the stars representing the label in recent years are Jung, who was the first Korean to appear solo on the cover of American Vogue, and K-pop singer Hyein of the up-and-coming girl group NewJeans.
Korea's biggest musical export, BTS, has also worked with the label. The seven-piece even attended the 2022 Grammy Awards dressed in a selection of complementary Louis Vuitton suits. After the group announced it was going on hiatus last year — as its members serve, or prepare to serve, their mandatory military service — one of the band's rappers, J-Hope was appointed as a Louis Vuitton brand ambassador as he pursues his solo career. (His band mate Jimin has meanwhile been signed by jeweler Tiffany & Co, which is owned by Louis Vuitton's parent company, LVMH).
Other brands looking to capitalize on South Korea's growing cultural cache include Dior, which hosted its first ever show in the country last year. French fashion houses Celine, Chanel and Saint Laurent have all, along with Dior, appointed members of girl group Blackpink as brand ambassadors.
Source : CNNStyle