The Trekkie in me — yes I love Star Trek; no, I don't go to conventions — didn't realize that naval flagships were an actual thing, the way that the Enterprise is the flagship of the Federation. Apparently many countries in the world have their own respective flagship — or have had one at one time. The United Arab Emirates, though, wasn't one of those countries, but that could change. Maybe. Robb Report details how a designer has penned a super yacht concept that is supposed to be a flagship of the UAE, even though it kind of looks like a U.S. aircraft carrier.
Designer Enzo Manca collaborated with an unknown sultan who feels the UAE needs a flagship to create this yacht's look. The exterior design takes cues from defensive vessels, mainly U.S. aircraft carriers. You can really see it in the yacht's tower — known as Pry-fly (primary flight control) on aircraft carriers —which rises above the rest of the ship. The tower's windows, like the rest on the ship, are tinted for privacy.

The term superyacht is used literally here. This thing is massive and has space in spades to keep those on board comfortable and entertained. It's 459 feet long and towers 130 feet over the water. It boasts 30,000 square feet of interior space spread across nine decks. There's a private suite for the owner or captain or whatever, 14 mini apartments and eight cabins. That's all in addition to another 35 cabins for the ship's crew. Presumably to receive dignitaries or other rich people, there are gathering areas like meeting rooms — and even a press briefing room.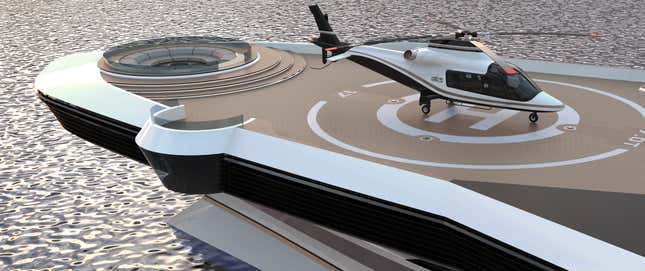 There's even space on board for a small fleet of vehicles. There's a hangar that's described as "sheltering the presidential helicopter," a mini port with a submarine and two helipads that can hold choppers up to 55 feet long.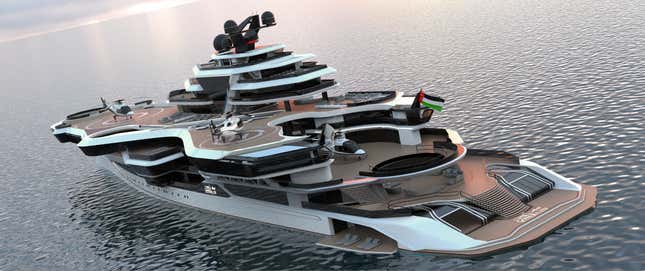 And when it comes time to chill, a ship like this definitely has plenty amenities. On the main deck, which is covered in over 30,000 square feet of teak, there's a 59 foot transversal swimming pool, while on the bow, there's a circular sofa with a fireplace as its centerpiece. There's also a spa, gym and wellness center — because of course there is.
Enzo Manca hasn't given any details on what powers the ship or whether or not it's going to be built, but he did tell Robb Report that renderings of the interior will be coming later this year. I wouldn't be surprised if this thing ends up being one of the world's most expensive yachts.
Source : Jalopnik